i guess i can skip my run for the day if i buy into one of the newest trends in dresses - optical illusion. this futuristic style is slimming and eye-catching and i can't wait until it moves around the rest of the industry so regular people like me can wear it.
i first noticed the illusion patterns when seeing a photo of victoria beckham wearing a black and white alexander mcqueen design, which i heard was a gift from the man himself. usually a fashion from the 80s i prefer to leave out of my wardrobe, mcqueen's
degrade
dress features angular shoulder pads that add even more curves and become the cherry on top of an already fabulous dress. it sells for $1,595 on the designer's web site and you can check out how it looks here in a photo of victoria from people magazine: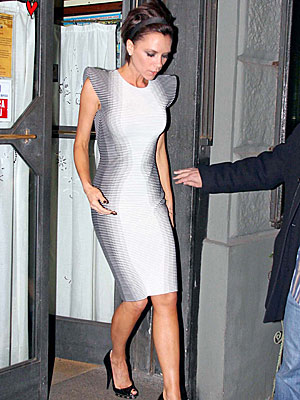 though i love mcqueen's carefully thought-out pattern, in my mind, herve leger by max azria actually perfected the trend in his spring 2009 collection. i would do anything to step into this not-so-dizzying version kristen stewart wore to the
adventureland
premiere, which i saw on instyle.com: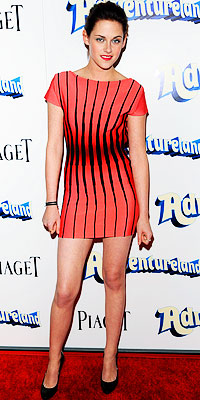 the coral-colored
ombre
mini hugs the body creating a perfectly feminine hourglass shape with its out-of-the-ordinary vertical lines. and with a backless cut-out, the dress is just as sexy from behind:
i need one of these asap!